Welcome to DSAP
​Congratulations! We want to be the first to welcome you to the Down syndrome community. If you have just received a Down syndrome diagnosis, we know you may be feeling a wide range of emotions right now. It is important to realize that there is no right or wrong way to react. We want you to know it's okay and more importantly, know you are not alone. Here at the Down Syndrome Association of Pittsburgh (DSAP), we are committed to supporting you every step of the way.
First Call Program
For new parents with babies with Down syndrome, having an opportunity to speak with other parents who have experienced a similar journey to you can be helpful. The First Call Pittsburgh Program is a volunteer, local group of trained parent mentors from right here in Western PA. DSAP services and resources are free and confidential. First Call Pittsburgh strives to match new parents with parent mentors that have similar experiences. Our parent mentors are available to answer any question in a safe space. We are here for you and want to encourage you to process your thoughts and feelings. To connect with a First Call parent mentor, you may email firstcall@dsapgh.org or call/text (412) 552-4972. 
---
New Parent Welcome Box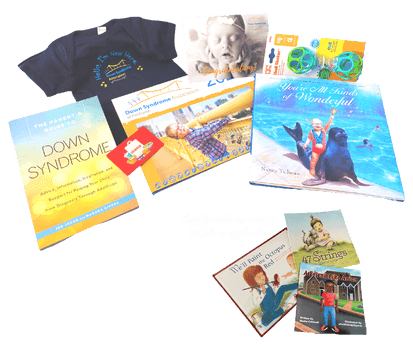 We here at DSAP want you to know that we are here for you. Many of us are parents who understand what you are facing and can relate to what you are going through and several of us are community members wanting to support you. With bringing a new baby into your family, we want to celebrate and welcome you to the most amazing community you never knew you wanted to be part of. We would be delighted to send you a Welcome Box that includes free resources about Down syndrome, our DSAP community calendar, and some other gifts to celebrate this new addition to your family! As your baby grows, DSAP is here to provide lifelong support and programs. To request a box, complete this form.
---
Family Connection Groups
There are several Family Connection groups to get involved with and these are allow you to connect by children's ages and specialty groups. DSAP also hosts Facebook groups that coincide with the Family Connection groups to continue to connect and support each other.
Down Syndrome Medical Care
Here is Western PA, we have specialized medical care at the Down Syndrome Center of Western PA and they see individuals with Down syndrome across the lifespan. To reach out to the center directly, email DownSyndromeCenter@chp.edu or call (412) 692-7963.
Helpful Resources
---
What is Down Syndrome?
Visit our What is Down Syndrome page to learn more.
---